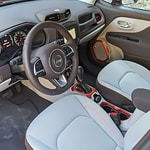 The rearview mirror is one of the most important features of your vehicle; and yet, it's also one of the hardest to manage. If you're driving through a fog, you can't exactly unroll the window and wipe the fog off the mirror. But when you're driving Uniontown, PA at night, you can't risk having your vision impeded by fog or ice that's obscuring the rearview mirrors.
At Tri Star Uniontown CDJR, we know how important these safety features are to you. It's just one reason that the Jeep Renegade is a great vehicle to own. The rearview mirrors have a heating functionality that melts the fog and ice off your mirrors while you're driving. No more straining to see through a dangerous, obstructive fog.
The Jeep Renegade also comes with heated front seats and a heated steering wheel, so you'll always stay warm in the winter. You can't beat that kind of comfort and convenience.