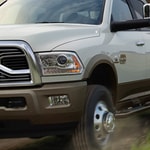 When you want a powerful truck with a comfortable and advanced interior, then you want to take a look at the Ram 3500. This top-heavy duty truck is designed to get more done while keeping you comfortable, informed, and entertain in the process. Here are some of the most impressive interior features that you will find on the Ram 3500.
The Ram 3500 offers you one of the largest touch screens of any truck on the road today. The trucks 12-inch touchscreen offers you a great combination of physical buttons and touch screen controls to allow you to get the information that you need quicker. The home screen can also be customized to fit your needs.
For those who want the top audio system in your truck, there is the available 17-speaker Harmon Kardon audio system. This system gives you some of the best sound on any truck on the road today.