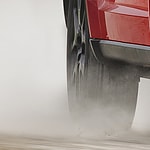 Could you imagine getting 100 miles on less than five gallons of gas with your SUV? Dodge Journey owners need not "imagine" anything. The vehicle gets 100 straight miles of highway driving, with only 4.8 gallons of fuel. The overall fuel efficiency figures with this particular SUV may captivate buyers looking for reliable fuel efficiency.
The combined highway and city miles per gallon figures clock in at 21. That might impress many buyers seeking a mid-sized SUV. When separating the combined figures, we see the Dodge Journey gets about 19 miles per gallon in the city and 25 on the highway.
A 2.4-liter, 4-speed engine delivers the stated miles per gallon figures. Since the SUV comes with significant cargo space, drivers may wish to keep an eye on weight load, as weight affects fuel economy.
Please visit our Uniontown, PA showroom to learn more about the Dodge Journey. The Tri Star Uniontown CDJR team could help you set up a test drive, too.