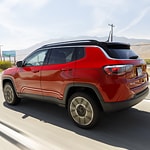 When you have your eye on owning one of the best compact SUVs for sale today, you are looking at the all-new Jeep Compass. Entirely redesigned with outdoor performance in mind, it comes with exterior features that put it ahead of its competition.
While you can technically drive it on city roads and for purposes like running errands or taking the kids to school, you can also get impressive performance out of it by taking it into the off-roads. Its durable body is built to withstand flying mud and gravel, brushes against tall grasses, and splashing streams in mind.
It also comes with a rear row of seating with a 60/40 split-fold that you can put down to maximize storage space. With the seat down, you get 66 cubic feet of room.
The newly designed Jeep Compass is waiting for you to test drive it today. Appreciate its exterior designs in person.