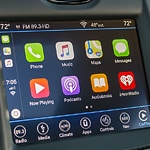 The new Chrysler 300 is a showpiece of a full-size sedan that is one of the most popular buys in the new car market. Its popularity is owed in part to its many technology features, all of which keep you connected and more than entertained on every ride.
It comes with smartphone integration thanks to its included Apple CarPlay and Android Auto. Pair your smartphone to your new 300 to access your favorite apps and playlists.
Also, keep your mobile devices connected with the 300's integrated 4G LTE WiFi hotspot. You can subscribe for a low price to keep the WiFi hotspot active and have all of your devices connected to the Internet, even while traveling.
Know that you are in good hands as well with the new 300's SiriusXM Guardian. This system can summon roadside assistance if you get a flat tire or run out of gas. It can also call 911 after an accident.