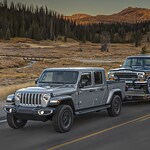 The 2020 Jeep Gladiator is a marvelous automobile, and that's a guaranteed fact. This mid-size pickup has become quite popular for people of different age groups. This vehicle has rugged good looks and is equipped to meet your off-road demands. The 2020 Gladiator goes even further by offering a Trail Cam, an 8.4-inch touchscreen display as well as navigation.
It is estimated that up to 80 safety features have been instituted into this frame. Of course, this includes airbags and a suit of armor. The vehicle's chassis is made of high-strength steel. Radars and sensors are added into the mix to help in preventing accidents. These technologies will scan the roadways for possible danger. This includes Rear Cross-Path Detection, Blind Spot Monitoring, Active Braking, and Forward Collision Warning. The Gladiator also offers a 5-foot cargo bed.
Do you need additional details? If so, then head over to our location for a free test drive.